Dysentery prevention
and control of flies


Dysentery prevention and control of flies

Alzogur is a biocide for the control of fly larvae and dysentery in swine. It acts on the slurry under the soil and improves the hygienic conditions of the farm, offering protection against flies and dysentery for many weeks.
Alzogur is the only product authorized in Spain with the indication of reduction of Brachyspira hyodisenteriae, causal agent of swine dysentery, in slurry.
*Product marketed only in Iberia
The use of Alzogur is recommended for the effective control of Brachyspira hyodysenteriae, integrated into a plan of hygienic measures in the animal and its environment to combat flies and dysentery.


Completely eliminates the causative agent of dysentery, preventing disease outbreaks.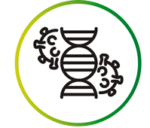 It cuts the cycle of infection from the slurry to the animals.

Effective and lasting control of fly larvae and eggs in slurry.
Effect on the environment: reduction of odours and harmful gases.